The Land of Pescara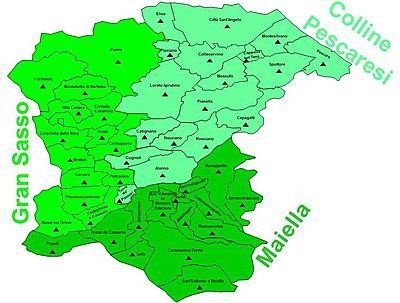 Italy, Abruzzo, Lands of Pescara, landmarks to bear in mind to discover an authentic tourist destination, able to offer several holiday opportunities and to make you live unforgettable experiences and emotions.
The lands of Pescara are characterized by the geographical nature and the shape of the different territories composing them. Looking at them from the Adriatic Sea you can notice the extensive coastline in the foreground and the mountains rising above it; between sea and mountains we can appreciate an important mid-area characterized by gentle hills and tidy plains: the Abruzzo countryside, cultivated with wisdom and due respect for bio-diversity and environment offers wonderful views of rural landscapes characterized by evocative shapes and colours.
The grapevine, the olive, the wheat heads, the fruit trees and the cultivation of vegetables draw the hills of Pescara; other distinguishing features of the rural area are the woods and also some limestone rock areas called calanques which as the canyons tell how time goes by following Nature's pace.
The Gran Sasso and the Maiella are the guardians of natural environments populated by people, wildlife and unique plant life, also including mountain chains as well as parks and natural reserves characterized by rivers, valleys, lakes, caves, small waterfalls and plateaus. The wolf, the Marsican bear, the eagle, the peregrine falcon, the lynx, the deer, the chamois, the otter and other wildlife live together in the mountains of the lands of Pescara in a unique natural habitat, where vegetal and animal bio-diversity are in a perfect balance.
The Italic peoples, Rome, the Middle Ages, the history of the last centuries can be read in these picturesque villages, small towns where people preserve traditional knowledge and flavours, handed down from generation to generation.
Enjoying them from a distance, getting lost in the narrow streets and alleys, entering the historic churches and palaces and visiting the old residents' houses, is an emotional experience that will leave lasting and deep memories in the minds and hearts of those who will have the desire to live it.
Life, folklore and spirit dominate landscapes, tastes and the beauty of the whole area, its food and wine treasures as well as local excellences invite visitors to live unforgettable sensory experiences.
Be our guests in the lands of Pescara !
Attachments: